Tsai, prime minister ignoring public security, KMT says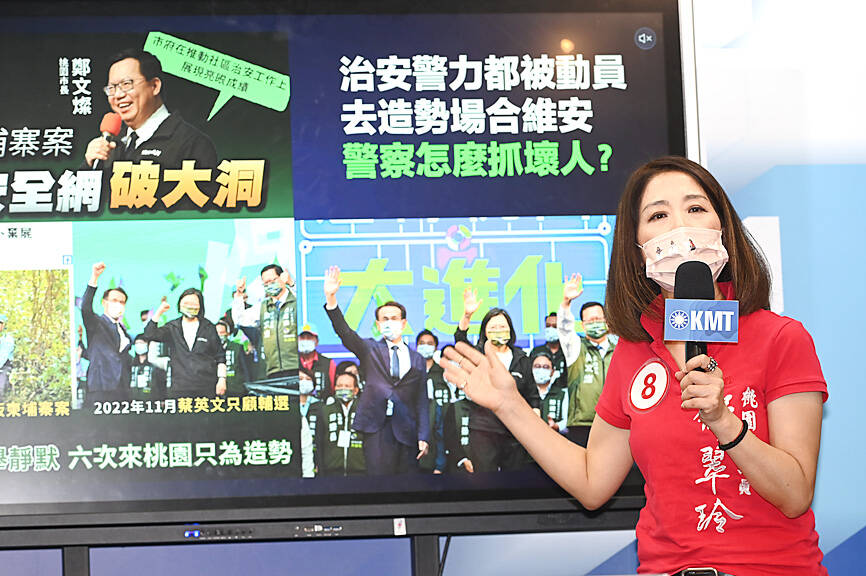 By Shih Hsiao-kuang and Liu Tzu-hsuan / Staff Reporter, with Staff Writer and CNA
The Chinese Nationalist Party (KMT) yesterday accused President Tsai Ing-wen (蔡英文) and Premier Su Tseng-chang (蘇貞昌) of ignoring public safety and focusing only on local elections on November 26. .
Law and order in Taiwan "has deteriorated at a speed beyond imagination," Ling Tao (凌濤), candidate for city council of KMT Taoyuan, said at a press conference.
However, the Democratic Progressive Party (DPP) only conducted election campaigns, which "put the public order in Taiwan even more at risk", he added.
Photo: Tien Yuhua, Taipei Times
Taoyuan Mayor Cheng Wen-tsan (鄭文燦) of the DPP "never said a word about the case in Cingpu (青埔) and Jhongli (中壢) districts", he said.
Ling was referring to reports that law enforcement officials busted a human trafficking ring in Taoyuan that kidnapped and tortured more than 60 people.
KMT Taoyuan city councilor Shu Tsui-ling (舒翠玲) accused the central government of "not thinking and recognizing its mistake, and downplaying the incident to avoid incurring public anger".
Shu said Tsai has been to Taoyuan nine times and Su has been there twice since last month, adding that their security department needs at least 120 police each time they go to the city to secure the areas of their routes.
The number of police officers on duty on weekends is not sufficient, so all police officers in the city had to be on duty during visits, she said.
Police gave an update on the human trafficking case yesterday, saying they had arrested three other suspects in connection with the deaths of three people and the kidnapping of more than 60.
The New Taipei City Police Department's Criminal Investigation Corps said on Wednesday they found a 30-year-old woman surnamed Fu (傅) in Keelung, a 32-year-old man surnamed Wu (吳) in Taipei and a man from 27 years old. -old man surnamed Wu in New Taipei City.
The suspects lured victims to locations in Taoyuan and New Taipei City under the guise of holding interviews for high-paying jobs, police said.
The victims were then held against their will for periods ranging from less than a week to more than a month by the suspects, who tortured them to obtain their bank details and identity documents, police said.
Police said the suspects beat, pepper sprayed and electrocuted uncooperative captives, adding that Tasers and retractable batons were found at the two alleged torture sites.
The suspects likely used the stolen bank accounts to commit fraud and launder money, police said.
Twenty-one suspects have been arrested so far and police are working to track down other suspects, they said.
Comments will be moderated. Keep comments relevant to the article. Remarks containing abusive and obscene language, personal attacks of any kind or promotion will be removed and the user banned. The final decision will be at the discretion of The Taipei Times.