Prevalence, incidence and mortality of hypertrophic cardiomyopathy based on a cohort of 21.9 million people in China
In 2010, the overall prevalence of surviving HCM survival was 0.0069% (95% CI, 0.0065 to 0.0072%; NOT = 1343) with 0.0081% (95% CI, 0.0076 to 0.0087%; NOT= 824) in men and 0.0055% (95% CI, 0.0050–0.0059%, NOT= 519) in women (Supplementary Table II). In 2019, the overall prevalence of surviving HCM was up to 0.076% (95% CI, 0.074 to 0.077%; NOT= 16,616) with 0.094% (95% CI, 0.092 to 0.096%, NOT= 10,537) in men, 0.057% (95% CI, 0.055 to 0.058%, NOT= 6079) in the female population and the male/female ratio of 1.65:1 (Fig. 1). The prevalence of HCM subtypes is also shown in Fig. 1.
From 2010 to 2019, a total of 17,085 newly diagnosed HCMs were identified from the current registry, with the incidence increasing from 6.85 (6.48-7.21) in 2010 to 11.76 (11.30- 12.21) in 2019 per 100,000 person-years (Table 1). Of these, the incidence of HCM increased with age overall and in the male and female population. The incidence of HCM increased with age with peak incidence in the 80-84 year age group after adjusting for sex using Poisson distribution analysis as shown in Fig. . 2. Age-specific incidence also increased with age in males (Fig. IA) and females (Supplementary Fig. IB). The IRR of males compared to females was 1.73 (95% CI: 1.68–1.79) based on Poisson distribution analysis after adjusting for age.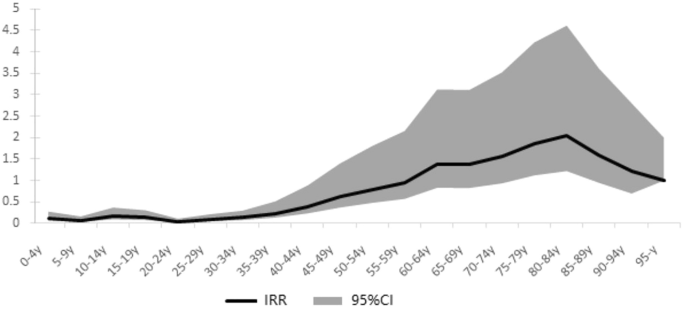 The annual incidence of HCM subtypes is shown in Supplementary Table III. This showed a newly diagnosed apical HCM increasing from 0.46 (0.36, 0.55) to 1.17 (1.03, 1.31), an obstructive HCM of 2.22 (2.01, 2, 43) to 4.62 (4.34, 4.91) and a non-obstructive HCM of 1.25 (1.09, 1.41) to 1.95. (1.77, 2.14) and indefinite HCM from 2.92 (2.68, 3.16) to 4.01 (3.74, 4.27).
The ratio of incidence rates of HCM subtypes with aging has been shown in Fig. Supplementary II, which showed the highest IRR in the relatively older age group.
The IRR of males compared to females ranged from 1.29:1 to 2.40:1 after adjusting for age according to Poisson distribution analysis (Supplementary Table IV).
Temporal trends from 2010 to 2019
As shown in Table 2, upward trends were observed overall (AMPC = 5.8%, ppppp
We calculated time trends by age category from 0 to 9 years old, 10 to 29 years old, 30 to 59 years old and (ge) 60 years and found that the AAPC showed increasing trends in the 10-59 age range. Increasing trends in HCM subtypes are shown in Supplementary Table V, which shows increasing trends in all HCM subtypes in the set.
Prediction of new HCM cases beyond 2019
Similar results were obtained using both Poisson and GM(1,1) regression analysis for modeling the prediction of new HCM cases beyond 2019 assuming that the incidence of HCM maintained the same upward trend. Figure 3 and Table 3 show a 2.19-fold increase (2029 incidence rate: 20.57, 95% CI: 20.44–21.56) in incident HCM cases by 2029 using Poisson regression analysis and a 2.48-fold (incidence rate in 2019: 24.78, 95% CI: 24.38 to 25.62) increase in 2029 using GMOs (1.1 ).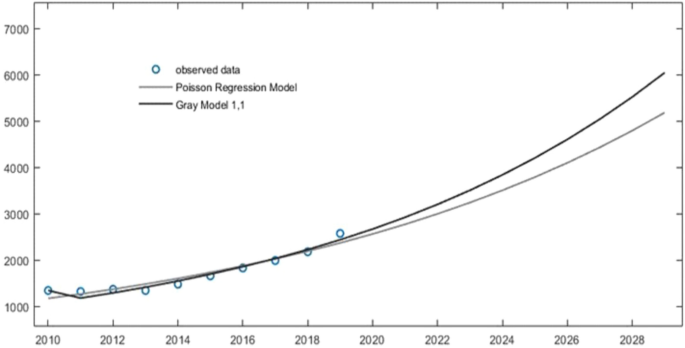 Modeling projections of incident HCM case subtypes (including apical HCM, obstructive HCM, non-obstructive HCM, and undefined HCM) are shown in Fig. III Supplementary. and estimated predictive numbers of HCM case subtype incidence are shown in Supplementary Table VI. This showed a two to three times increase in HCM incidents by 2029 compared to 2019.
Mortality incidence in HCM
The percentages of deaths are depicted in Fig. Additional IV. Of 17,085 cases of HCM, 3.26% (NOT= 556) died during the study period. Overall mortality for HCM increased from 2.38% (NOT= 32) in 2010 to 3.38% (NOT= 87) in 2019. Mortality is stable each year (pNOT= 216) and last five years (3.32%, NOT= 340, p= 0.56). Men had lower mortality (2.70% versus 4.20%, pp= 0.25). We also found that 1.40% (NOT= 239) of HCM patients received an ICD in the past 10 years, and the implantation rate increased from 0.74% (NOT= 10) in 2010 to 1.32% (NOT= 34) in 2019, showing a general upward trend (p= 0.25). In our study, the mortality of patients fitted with an ICD was 3.35% (NOT= 8), while the mortality of patients without ICD implantation was 3.25% (NOT= 548), which did not show statistical significance (p= 0.85) (Supplementary Table VIII).