Phillip Ensler emphasizes education and public safety as newly elected state representative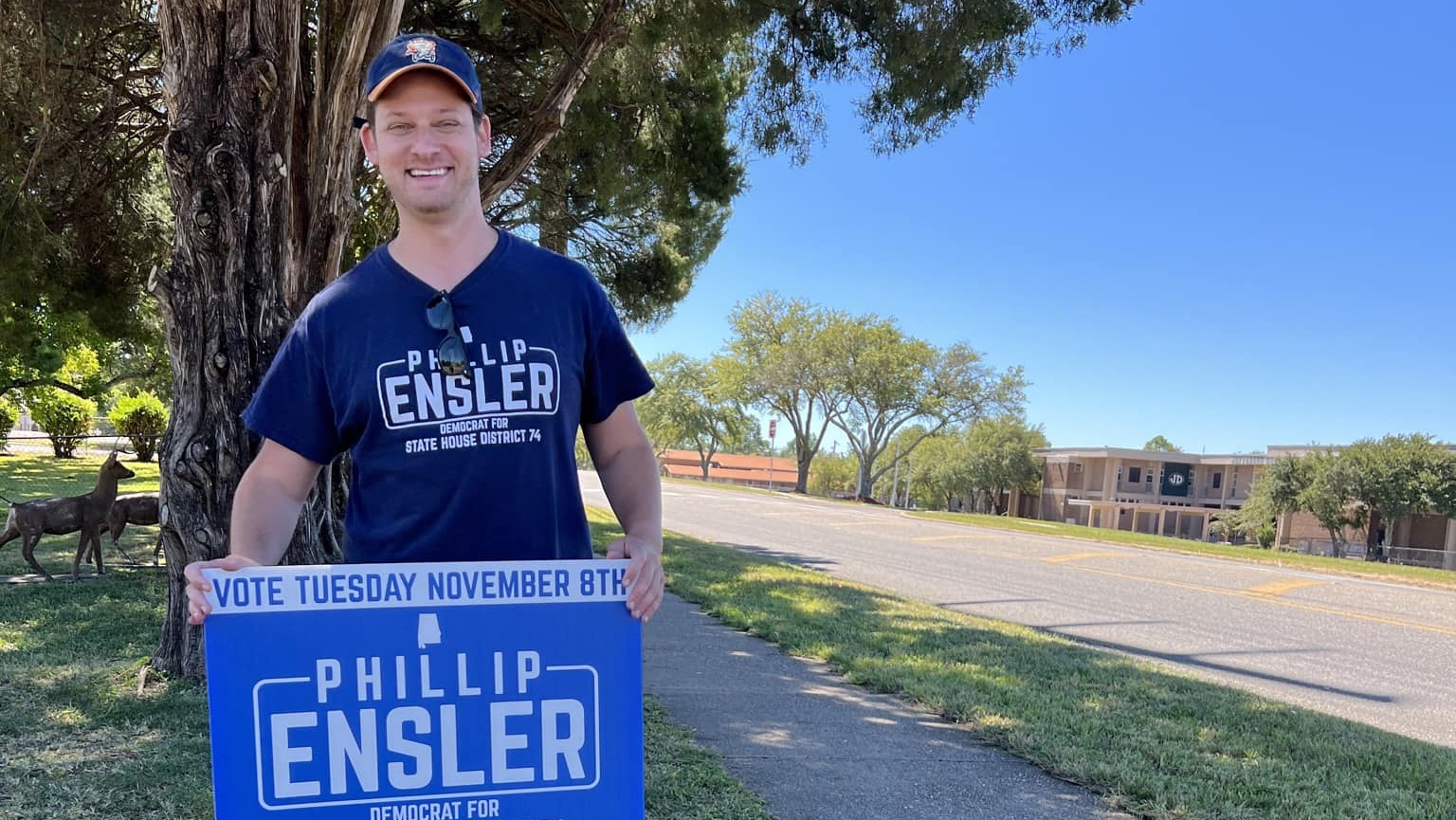 Voters in State House District 74 did something on Election Day that hadn't been done in the district since before the new millennium: They chose a Democrat over an incumbent Republican.
Phillip Ensler, the newly elected Democratic representative to the House of Representatives for District 74 in Montgomery, was elected by a large majority against incumbent Republican Charlotte Meadows, receiving exactly 60% of the vote on Election Day.
"It's always a great relief when you get the results and see that our message, solution-focused and working together as a community, resonated," Ensler said in an interview with APR on Thursday.
Born in New York, Ensler originally came to Alabama as part of Teach for America, becoming a social studies teacher at Lee High School, now JAG High School, in Montgomery under the program. A member of the Alabama Bar, he worked as a political adviser for Alabama Appleseed and as a senior political adviser for Montgomery Mayor Steven Reed. Most recently, he served as executive director of the Jewish Federation of Central Alabama.
Ensler is the first Jewish man elected to the Alabama State Legislature since Democratic State Representative and later U.S. Congressmen Ben Erdreich more than four decades prior.
"My Jewish identity has shaped my worldview of trying to fight and advocate for a better community for all and a more fair and just system for all," Ensler said. "I think that's the most exciting part, just bringing those values ​​into the state house. A lot of neighborhood residents are really driven by this and inspired that there will be someone in the seat who represents their values.
District residents were unhappy with Meadows, Ensler said, with changing demographics and a rare example of a Democratic advantage after the redistricting process last year made it one of the few competitive districts for Democrats in the district. 'State.
"Hearing residents say that overall, [there was] just a general frustration and fatigue with politics and people showing up at election time and asking for their vote," Ensler said. "Things that show promise and disappear once they're in."
Public safety and education are issues District 74 residents want to address in the upcoming legislative session, according to Ensler.
While he doesn't plan to pre-introduce any bills before next year's regular legislative session, Ensler said he had "a lot of ideas" regarding public safety that he wanted to undertake, including including incentives for police officers to live in poor neighborhoods. high-income or high-crime areas, a legislative response to constitutional postponement, and a pilot program to train and supply conflict resolution specialists to select municipalities.
A "more rigorous type of curriculum" on financial literacy in high schools and more practical instruction in economics to help financially empower the state's youth are educational policy priorities Ensler wants to address.
Ensler said that while he understands there's common ground on issues "like pre-K and economic development and mental health" in the statehouse, he won't shy away from protecting marginalized groups in the state who continue to have their rights taken away. their.
"There have been attempts, efforts in the law for a few years that seek to demonize and attack marginalized groups in different ways, restricting voting rights and really using different minority groups as scapegoats," said Ensler. "I'm not going to shy away from standing up and fighting for what's right for everyone, and fighting for everyone."
The Alabama state legislature is scheduled to begin its regular legislative session in March of next year.