Nonprofit Spotlight: Citrus County Education Foundation | Local News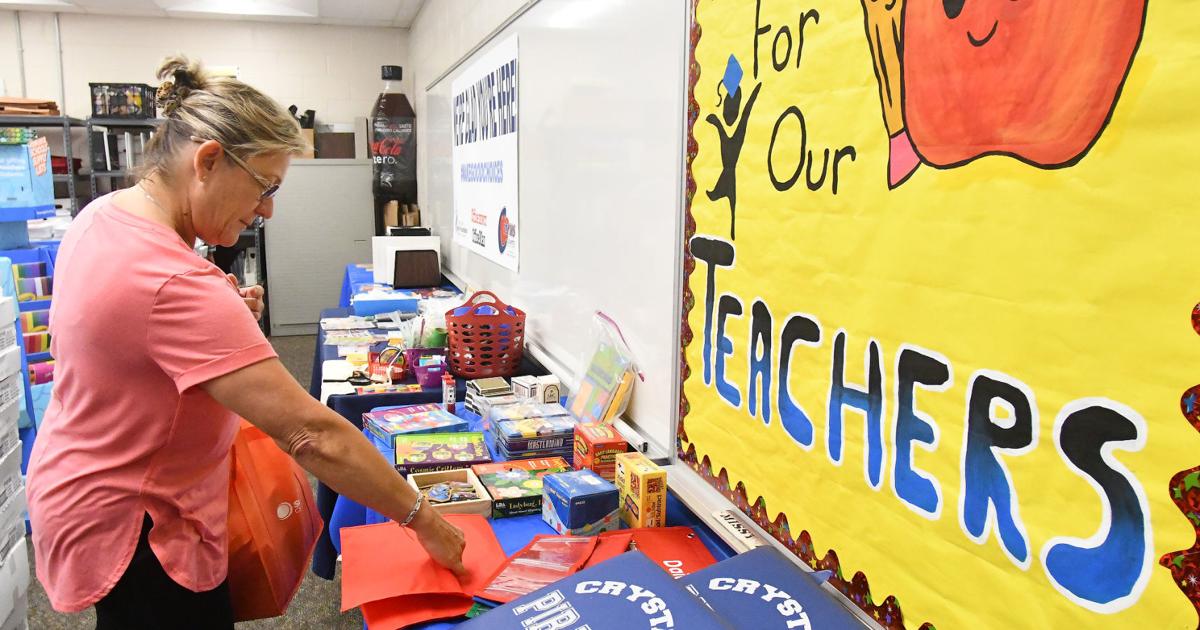 Editor's Note: Every community depends on the resources and support that nonprofits provide to people, whether physical, material, or emotional.
The Chronicle's ongoing series, Nonprofit Spotlight, showcases Citrus County's nonprofit agencies that exist to help improve the lives of everyone.
To have your nonprofit organization considered for a spotlight, here is the link to an online form you can fill out:
https://www.chronicleonline.com/site/forms/nonprofit_spotlight
•••
Until about five years ago, the Citrus County Education Foundation (CCEF) was one of the community's "best kept secrets," said Shaunda Burdette, executive director of CCEF. "People are surprised to hear that we've been here for over 30 years."
The foundation began with a group of people in the community who were concerned about local school district needs that were not being met due to state funding requirements and restrictions.
At the time, the foundation started as a "passage" for people who wanted to donate money to the school district, to fill in the gaps, Burdette said.
"It started small and welcomed things like 'Teacher of the Year,'" she said. "We've come a long way."
Today, the foundation has 34 programs running every day, with a staff of four, 25 serving and active board members, and 600 volunteers.
Basically, what CCEF does is fill in the gaps to ensure students have what they need so their learning is not interrupted, from meals, clothing or personal care items to temporary accommodation.
"We realized that our impact extends far beyond pencils and paper," Burdette said. "When a child's basic needs are not met, how can he learn? »
She said COVID has changed the way they do what they do dramatically.
"When COVID hit and the buses went into neighborhoods to deliver food, our volunteers hopped on the buses to do that, and I was able to go door to door and really understand what the family needs.
"Many of them were just a paycheck away from devastation, and they needed more than just meals from the school district," she said. "Meeting with families on a more personal level has shown us what these families are going through day to day and where the greatest needs are and what we can do to not only help families recover quickly, but also to ensure the continuation of learning. So we started creating programs and support systems through the education foundation. »
Some of the foundation's programs include:
Book, Line and Thinkers – Fifth graders in partnership with the Homosassa Guides Association take an educational fishing trip.
Community Care – With community donations, students can rest assured that they will have the personal care items they need.
Environmental Jeopardy – High school competition during Citrus 20/20 Save Our Waters week.
First Library – Provides Kindergarten and Kindergarten students with their own books to take home and keep.
Galaxy of Stars – Gala celebrating each school's Teacher of the Year and School Employee of the Year.
Golden Citrus Scholars – Recognizing the best and brightest senior graduates.
Mini-Grants – Grants to teachers to enhance classroom curriculum and instructional activities.
Math Field Day – A math skills competition for middle and high school students.
Men Building Men/Women Building Women – Provide students with positive and influential role models.
School Resource Rooms – A confidential "free store" where students can obtain toiletries and clothing.
Supplies 4 Success – A "free store" for teachers to get school supplies for students who need them.
"Financing our future"
Without any state or federal funds, CCEF relies on community support for its fundraising events throughout the year, as well as in-kind donations and supplies to stock the free store. teachers, provide scholarships, class grants, technology, and meet a host of other needs involving students.
"Five years ago, we were raising about $250,000 a year, which we immediately redistribute," Burdette said. "Last year we raised over a million dollars. But the most important figures, five years ago, we reached between 100 and 500 students; now we are reaching 16,000."
CCEF has some type of fundraising event almost every month, all of which are well attended by the community.
"The community has really bought into what we're doing," Burdette said.
Some of the main ones include:
Foundation Fest, a famous bartending event, usually in November
Children's Triathlon in May
Lake Hernando Dragon Boat Festival in November
Schoolhouse Hustle Family Fun Run in April
Fill the bus with school supplies in July
Superintendent's Golf Classic in April
It's about making a difference
"What we know, if the family succeeds, the children will succeed," Burdette said. "And what we've seen, especially post-COVID, the families that we helped then, they're the ones now bringing in school supplies to help kids in need.
"That's how we know we're really making a difference," she said. "With our community of care, the circle is complete."
Information
Phone: 352-726-1931 ext. 2240
Email: [email protected]
Address: Withlacoochee Technical College, 1201 W. Main St., Building 700, Inverness.
Mail to: PO Box 2004, Inverness, FL 34451
Website: www.citruseducation.org
Facebook: www.facebook.com/citruseducation