Giant sequoia population faces major decline due to wildfires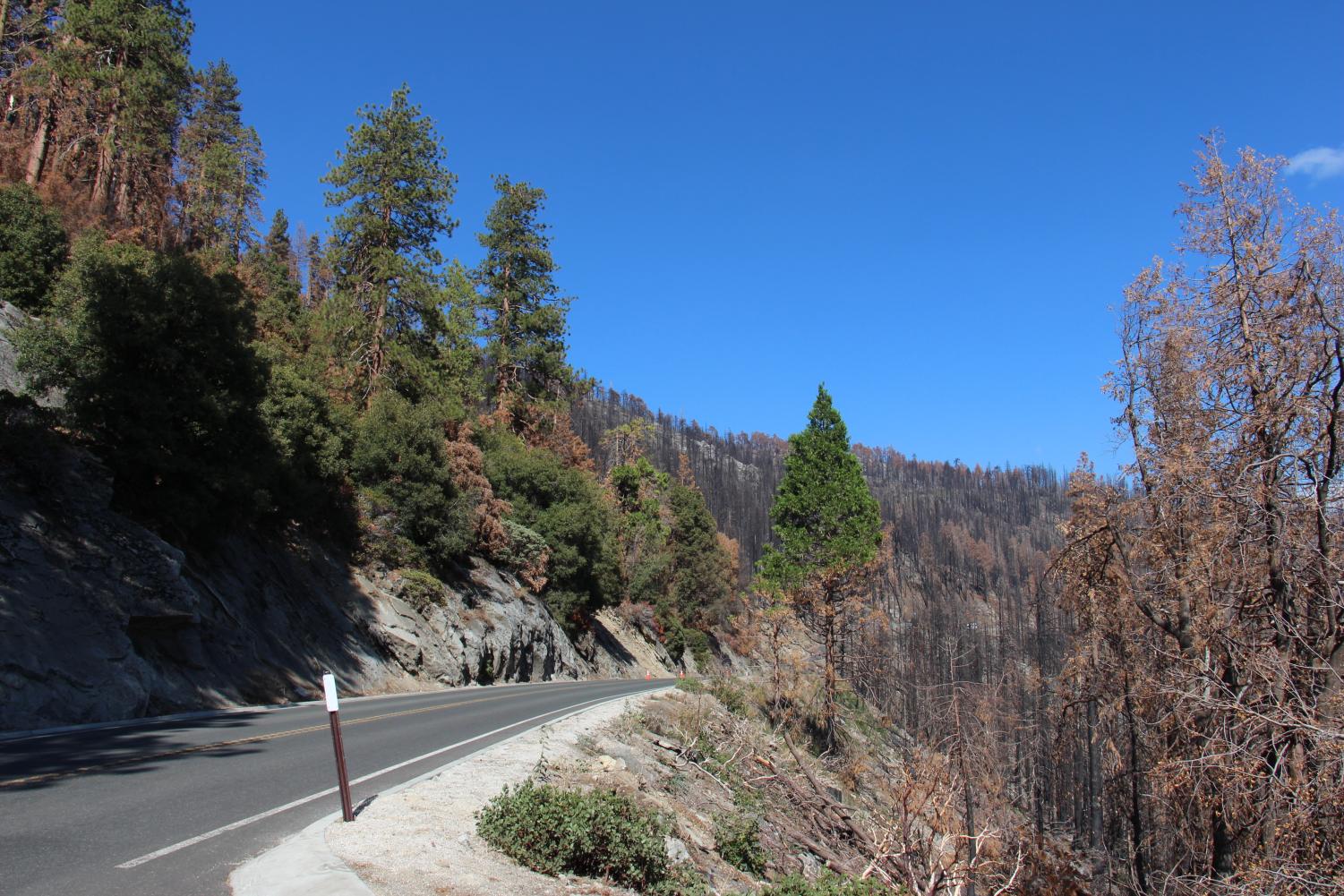 Growing up in central California, you probably have fond memories of visiting a grove of giant sequoias in a national park. Perhaps you've craned your necks in front of these beauties while hiking the 100 Giants Trail. Or perhaps you marveled at the sheer scale of the world's tallest tree, in terms of trunk volume, the General Sherman in Sequoia National Park. Before it became illegal to cut down giant sequoias, logging drastically reduced these groves. Today, these trees face a growing threat every year: forest fires.
Over the past two years, approximately 20% of the giant sequoia population has been killed due to three major wildfires: the Castle Fire in Tulare County, the KNP Complex Fire, and the wind in the Sequoia National Forest.
Two plant biology professors and their students here at CSUB are studying the effects of drought and wildfires on native species in California. One of the native species they study is the giant sequoias, which are the oldest and largest trees in the world and are estimated to live for over 3,000 years.
Plant biology professor Dr Brandon Pratt said giant sequoias are well suited to cope with fire because they can co-exist with certain fire regimes known as smoldering ground fires.
"Redwoods have this incredibly thick bark that is filled with air, which is a great insulator. The air inside the bark protects the living tissue inside from fires," Pratt said.
However, the extent and strength of recent wildfires are increasing so much that even the giant sequoias are not surviving them.
Plant biology professor Dr Anne Jacobsen said: "We have these organisms that are thousands of years old, that have lived and survived fires and droughts for thousands of years, and they are now dying. So that tells us that these fires and droughts that we are experiencing are not normal. »
The Castle Fire, which raged from August 19, 2020 through December 2020, burned approximately 171,000 acres of the Sequoia National Forest. According to the National Park Service website, "The Castle Fire killed an estimated 7,500 to 10,600 giant sequoias. This represents 31-42% of the tall sequoias in the Castle Fire or 10-14% of all tall sequoias in the tree's natural range in the Sierra Nevada.
According to the National Park Service website, giant sequoias only naturally grow between 4,000 and 8,000 feet on the western slopes of California's Sierra Nevada. The KNP Complex Fire and Windy Fire both started from the same thunderstorm on September 9, 2021 and burned about 186,000 acres combined, or about 5% of the world's giant sequoia population.
"Giant sequoias specialize and adapt perfectly to a particular environment. The current environment is changing and these giant majestic creatures are now in a vulnerable state due to climate change," Pratt said.
The most recent blaze, the Washburn Fire, started July 7, 2022 and burned for 27 days across 4,886 acres of Mariposa Grove in Yosemite National Park. This grove is home to over 500 giant sequoias and the Grizzly Giant, which is Yosemite's second tallest tree, standing 209 feet tall.
Wynne Davis, a reporter and producer for NPR, said a sprinkler system was installed to help increase the humidity surrounding the Grizzly Giant and reduce the risk of fire on the ground, in the article "A fire from forest near Yosemite National Park threatens its largest grove of redwoods." ."
The Washburn Fire was officially 100% contained on Aug. 4, 2022, and there was little to no impact on the giant sequoias in the grove, according to The Washburn Incident, from the Department of Forestry and Protection. against the California wildfires.
Jacobsen said: "For the groves that have been lost, it's quite amazing to think that even if we sprout seeds and new seedlings come back, it's not just that we won't see great trees again in our lives. It will take generations of lifetimes before we recover these great trees. »
Gavin Horton, a second-year engineering science student at CSUB, said that throughout their lives they had gone camping and hunting in the Sequoia National Forest.
"I think it's really sad that our forests have been burning so much lately because of all the environmental hardships we've been facing. Just recently I visited the lower redwoods and saw mountainsides filled with scorched landscapes and trees," Horton said.
According to the July 2021 article, "Wildfires are killing tall sequoias in unprecedented numbers" on the National Park Service website, Clay Jordan, Superintendent of Sequoia and Kings Canyon National Parks, said, "The number unprecedented number of giant sequoias lost in fire last year serves as a call to action.
Jordan also said, "To combat these emerging threats to our forests, we must unite across agencies."
Pratt said young people, like CSUB students, can get involved by joining groups such as Save the Redwoods League and The Sierra Club. These organizations take political positions and influence decision-makers on issues that are good for redwoods.
"You can go to the field, volunteer in the field. The bigger issue is politics and you can contribute and connect with like-minded people and these organizations," Pratt said.
The Sierra Club Kern Kaweah chapter has a local group in Bakersfield called The Buena Vista Group. You can register online for a small fee at https://www.sierraclub.org/kern-kaweah .