Deer caught in the crosshairs as the population increases | Sports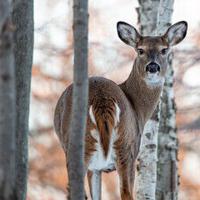 White-tailed deer, once nearly extirpated from the Chesapeake Bay drainage states, are now so abundant that they threaten landscape vegetation and human safety. As a result, they are increasingly in the sights of rifle scopes.
Often reluctantly, dozens of communities and state and federal agencies, including the National Park Service, hire snipers to reduce deer populations. Their calls to arms are invariably motivated by one or more of these concerns: overgrazing in natural areas, which is decimating native plant species and young trees; collisions between deer and vehicles; tick infestations (deer are the main hosts of Lyme disease-carrying ticks); and damage to gardens and landscaping.
Gettysburg National Military Park was the first national park to cull its herd of deer. The park has hired snipers since 1996 because deer grazing impacts prevented mandatory preservation of historic woods and cultivated fields. A lawsuit by an animal rights group temporarily halted the program in 1997, but failed to end it.
After community leaders or park managers decide that a deer population needs to be thinned out, with few exceptions, the choice is to shoot the deer, rather than using more difficult and expensive methods that involve drugs contraceptives or surgical sterilization. The decision is almost always controversial.
Game managers in Pennsylvania and Virginia generally view contraceptives and sterilization as impractical and too expensive, much to the chagrin of animal rights groups. Virginia and Maryland, however, have authorized several small projects for research purposes. Phoenix, MD, a small community north of Baltimore, is the only place where a general no-hunting license has been granted to reduce deer through surgical sterilization.
"Research has shown that non-lethal methods are limited in their applicability, prohibitively expensive [and] logistically impractical," said Katie Martin, a deer, bear and turkey biologist with the Virginia Department of Wildlife Resources. "In our experience, hunting and marksmanship have been the only practical means available for deer management in urban areas with high deer populations."
In most cases, trained snipers have been the preferred choice to reduce deer numbers in the Bay States. But many state game and wildlife agencies would prefer to see hunters, with the growing help of bowhunters, perform the service.
State hunt managers say recruiting new recreational deer hunters in large numbers isn't a realistic option, so they've focused on changing bowhunting rules – narrowing dead-end zones in certain populated areas – to help reduce herds. Maryland's management plan for 2020-2034 allows bowhunting in some counties within 50 or 100 yards of occupied buildings, down from the previous safe zone of 150 yards. The Pennsylvania Game Commission allows landowners to waive the state's 50-yard safe zone for archery, and those who allow their land to be used for deer management are shielded from liability .
Virginia created new safety rules 20 years ago allowing archers to hunt deer in populated areas if they do so to control the herd. Since then, 56 communities have organized such "suburban" hunts.
Fairfax County, Virginia has adopted bowhunting as its preferred means of reducing deer numbers. Last fall, bow hunters were allowed in 103 county parks, taking 823 deer. In 11 other parks, police snipers assisted and killed 56 deer.
Botanists are seeing rare plant species rebound, according to Katherine Edwards, wildlife management specialist for the county. Vehicle collisions with deer are down. Over the past four years, the slaughter of 1,642 deer has generated nearly 50,000 pounds of venison for food banks and the Hunters for the Hungry program.
The sniper's solution
Nighttime snipers have helped reduce deer numbers in dozens of communities in Bay watershed states, such as Fairfax County and Charlottesville in Virginia, and Montgomery and Howard counties in Maryland. Fairfax County and Charlottesville use a combination of hunters and snipers to shear the herd.
Many national parks in the region, which do not have the right to authorize hunting, have also used night snipers. Among them: Catoctin Mountain Park, Antietam and Monocacy Battlefields National Parks and Chesapeake & Ohio Canal in Maryland; Manassas National Battlefield
Park in Virginia; Gettysburg National Military Park, John Heinz National Wildlife Refuge, and Valley Forge National Historical Park in Pennsylvania; and Harpers Ferry National Historical Park in West Virginia.
Federal properties in the District of Columbia and surrounding suburbs also used lethal means to prevent deer from stripping the landscape and to reduce collisions with vehicles. Included are the Goddard Space Flight Center, Randall Cliffs Naval Research Laboratory, National Agricultural Research Center, National Arboretum, National Zoo, and Rock Creek Park.
The harsh truth, say many wildlife and game managers, is that humans have only themselves to blame for needing these unpopular deadly methods of control. This is because residential areas, farms and fields are much better habitat for deer than wilderness.
"Deer are drawn to suburbs for the same reason people are," notes the Pennsylvania Game Commission's A Guide to Community.
Deer management in Pennsylvania. "There are natural areas, greenways, parks that provide sleeping areas, escape blankets and birthing sites. The houses are landscaped with trees, shrubs and herbaceous cover, which are appetizing and nutritious for deer. [And] predators have been eradicated or controlled. These conditions lead to high reproductive rates, low mortality rates, and small deer home ranges.
Under these ideal conditions, female deer as young as 6 months old can begin breeding, and some will produce triplets instead of the typical twins in forest deer.
In the early 1900s, deer were rare in the Chesapeake watershed. Their habitat had been diminished by massive logging and their numbers drastically reduced by unregulated commercial hunting. But the deer have come back in force, thanks to reintroduction programs and welcoming suburbs.
Pennsylvania's deer population is estimated at 1.5 million, with around 50,000 deer-vehicle collisions each year – among the largest in the country. Virginia has between 850,000 and 1 million deer and Maryland has about 220,000.